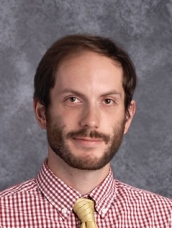 Benjamin Carpenter
Latin Teacher 5-6
Employed Since: 8/8/2016
2 Years Experience At School
Education is "to lead out" from Latin e-ducare. What that suggests about teaching and learning is that knowledge and wisdom are arrived at not just by self-discovery and personal experience but by guidance. It is what Socrates would call a kind of midwifery, the profession or activity wherein a mentor would guide another's fertile mind and soul. University of Dallas' own Dr. Crider, in his Office of Assertion, speaks about "soul-leading." Formation is so incredibility important not just for molding responsible citizens and kind people but for leading boys and girls, and men and women, to a radical consciousness of the virtuous life, of self –sacrifice and discipline, and to their actual practice. A Catholic education, moreover, centers these activities on Christ and beckons students to the joys of a God-fearing lifestyle.
This is my first year teaching Latin at CKS! I am excited to be part of this team and I love teaching Latin. The community is welcoming and the Catholic identity is unmistakable. It is a very good place, indeed.
I was born in Alaska, went to college in Wyoming, graduating with a Liberal Arts degree, and eventually found my way down to Texas. The climate definitely took some getting used to. As for my hobbies, I enjoy playing guitar, listening to music, having discussions and laughing with friends, eating good food, reading, and sometimes just sitting outside and thinking about something great.
Mr. Carpenter