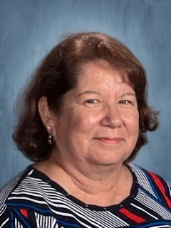 Claire Odom
7G Homeroom/Math Teacher
Phone: 214-365-1234
I am so glad that you have chosen Christ the King School for your child's education.
My philosophy in education is to assist the students in achieving their maximum individual levels of achievement both academically and spiritually. Yet, my favorite thing about teaching is getting to know my students and helping each grow into the unique person God intended them to be.
I was born in Houston, Texas, the fifth child in a large Catholic family. I received a Bachelor's of Science in Speech Pathology and Education of the Deaf from Texas Woman's University and a Masters of Arts in Interdisciplinary Studies with a concentration in Mathematics from the University of Texas at Dallas. I am married to Charlie, and we have been blessed with three children: Adrienne, Chaz, and Lane. Adrienne and Chaz have each married, and we have welcomed Jonathan, my son-in-law, and Alicia, my-daughter-in law into our family. In 2011, I became a Nana and am enjoying my grandson Joshua. In 2014, my granddaughter, Anya was born. Then another blessing named Isaac was born in 2016.
I am excited to be a part of the Christ the King Community for another great year as the upper school science teacher. It has been a delight getting to know the wonderful families, teachers, and staff at Christ the King.