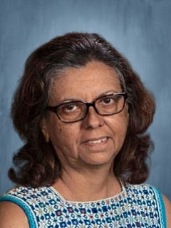 Silvana Bacigalupo
Spanish DK, 4K & 4-8
My education background started in Perú with three years of study at the School of Translators and Interpreters. It continued in Spain where I earned a degree in Business Administration in Hotel and Restaurant Management. I finished my higher education with a Bachelors Degree in Education as a language teacher.
My interest and curiosity for different cultures, ethnicities, history, art, and geography led me to learn four foreign languages. Through them, I have been able to communicate with others, read original texts, and learn about this wide and interesting world in which we live.
My goal and expectation is to share, teach, and pass on this knowledge and the importance and beauty of learning a foreign language to my students and the participating community of Christ the King School.