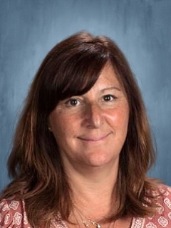 Jeanne Chavez
4G Homeroom Teacher
Welcome to fourth grade gold! My name is Jeanne Chavez. I am so excited to be back at CKS as a fourth grade teacher again, and in my old classroom no less.
I wasn't born in Texas, but I got here as soon as I could. I was born and raised in Pittsburgh, PA. I attended Catholic grade school and public high school. I graduated from the University of New Mexico with a bachelor's and a master's in elementary education. I taught fifth grade for two years in New Mexico, until I got married and moved to Dallas. That is when I started teaching fourth grade at CKS. I taught for five years and then left to raise my two children. They are now school age, so here I am again. I worked as an aide for second and fourth grade last year and jumped at the chance to teach fourth.
I am so happy to be back teaching the grade that I love in a place that I love. My goal is to challenge students to reach their full potential in a nurturing and loving environment where God is the center of all we do.