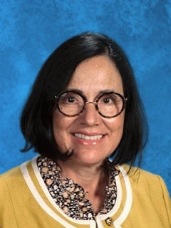 Maria Esteves
Spanish K-3
My name is Maria-Cristina Esteves. I am from Caracas, Venezuela where I lived until 2000 when my husband was transferred to work in Dallas.
I have a Business Administration Degree from the Catholic Unversity of Andres Bello in Caracas. Also, I have a Masters Degree in Organizational Development. My professional experience includes serving as a Consultant Manager in Accenture and as Process Engineering Manager in the biggest retaill organization in Venezuela.
My professional life has been always inmmersed in educational aspects, but it was not until I came to Texas that I discovered my true passion: teaching kids! First, I worked as a Kindergarten teacher in the Irving District. After this I joined Christ the King School in 2005 as Spanish teacher for grades Kindergarten through Third grade. Since then I have been enjoying teaching the children as they discover the beauty of communicating in another language, in this case Spanish!
My own children attended Christ the King and I am an active participant of the CKS community.