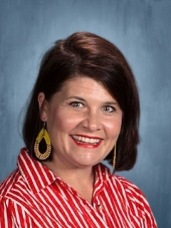 Ashley Young
Upper School Studies Teacher
This is my 10th year as a teacher, and I love helping students to LOVE reading and to become life-long learners! For this first time I will be teaching 4th grade, and I am looking forward to this new adventure.
I was born and raised in Dallas. I am a graduate of CKS and Ursuline Academy, in fact my graduation picture hangs right outside my classroom! I graduated from THE University of Kansas in 2003 with a BA in history and English. I received my teaching certificate in 2004 from the University of Dallas, and after three years in the classroom, I returned as a student to earn my masters in history at the University of North Texas in 2009.
I taught middle school history in Irving ISD for 7 years, three at Lorenzo de Zavala Middle School, and four at Stephen F. Austin Middle School. In addition to my roles as a teacher, I served as a cheer coach, team leader, department chair, and other various leadership roles. In between my time at both schools in Irving ISD, while working on my masters, I worked for two years as a coordinator for a Texas state grant, BEHT (Building Excellence in History Teachers), created by the University of North Texas in conjunction with Irving ISD. While I enjoyed the experience of teaching teachers, I missed my work with students and headed back soon after I finished my master's work.
My husband Kevin and I were married at CKS, and baptized our beautiful toddler son, Wyatt, here. We hope to have him walk through the halls of CKS, and be blessed by the wonderful education CKS provides a student's mind, body, and spirit. My family continues to be lifelong parishioners of CKS, and have loved watching CKS grow into the 21st century. I have such fond memories of CKS, and am so thrilled to be back to make even more.
My ultimate goal in teaching is to instill a life long LOVE for reading and learning in my students. I look forward to working with my Crusader students, and create a partnership with my Crusader parents. I know together we can develop a student that functions independently at the level of his or her potential.